European Union - Labeling/Marking Requirements (part 1)
Overview of the different labeling and marking requirements, including any restrictive advertising or labeling practices and where to get more information.
---
Last Published:
10/4/2019
Summary
There is a broad array of EU legislation pertaining to the marking, labeling and packaging of products, with neither an "umbrella" law covering all goods nor any central directory containing information on marking, labeling and packaging requirements. This overview is meant to provide the reader with a general introduction to the multitude of marking, labeling and packaging requirements or marketing tools to be found in the EU.

Introduction

The first step in investigating the marking, labeling and packaging legislation that might apply to a product entering the EU is to draw a distinction between what is mandatory and what is voluntary.  Decisions related to mandatory marking, labeling and/or packaging requirements may sometimes be left to individual Member States.  Furthermore, voluntary marks and/or labels are used as marketing tools in some EU Member States.  This report is focused primarily on the mandatory marks and labels seen most often on consumer products and packaging, which are typically related to public safety, health and/or environmental concerns.  It also includes a brief overview of a few mandatory packaging requirements, as well as more common voluntary marks and/or labels used in EU markets.

It is also important to distinguish between marks and labels.  A mark is a symbol and/or pictogram that appears on a product or its respective packaging.  These range in scope from signs of danger to indications of methods of proper recycling and disposal.  The intention of such marks is to provide market surveillance authorities, importers, distributors and end-users with information concerning safety, health, energy efficiency and/or environmental issues relating to a product.  Labels, on the other hand, appear in the form of written text or numerical statements, which may be required but are not necessarily universally recognizable.  Labels typically indicate more specific information about a product, such as measurements, or an indication of materials that may be found in the product (such as in textiles or batteries).

OVERVIEW

Mandatory Marks & Labels
Automotive

Cosmetics

Dangerous Substances

Electrical & Electronic Equipment

Energy Efficiency

Explosive Atmosphere

Food related

Footwear

Household Appliances      

Maritime

Measuring instruments

Noise Emissions

Pricing

Pyrotechnics

Recycling - Separate Collection

Tire labeling

Textiles

Units of Measurement

Wood packaging
Voluntary Marks and Labels
Cup/Fork Symbol (material in contact with food)

'e' Mark

Eco-Label

Green Dot

Recycling Marks
Voluntary and mandatory marks and labels apply to all Member States of the EU, countries in the European Economic Area, European Free Trade Association, as well as candidate countries seeking membership to the EU.

MANDATORY MARKS AND LABELS

CE Marking
This is probably the most widely used and recognized marking required by the EU.  Found in all "New Approach" legislation with a few exceptions, the CE marking demonstrates that a product meets all essential requirements (typically related to safety, health, energy efficiency and/or environmental concerns).   CE marking is required for the following products/product families: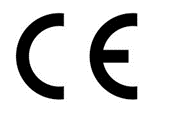 Cableway installations

Civil explosives

Construction products

Electrical/electronic products

Electromagnetic compatibility

Low voltage

Restriction of Hazardous Substances (RoHS)

Energy efficiency

Equipment and protective systems in potentially explosive atmospheres (ATEX)

Gas appliances

Hot water boilers

Lifts

Machinery

Medical devices (3)

Non-automatic weighing instruments

Personal protective equipment

Pressure equipment

Pyrotechnics

Radio equipment

Recreational crafts

Refrigeration appliances

Simple pressure vessels

Toys
For each "New Approach" law there is a separate list of references to harmonized European standards, the use of which provides the manufacturer with the 'presumption of conformity' with essential requirements.  While other non-EU standards may be used to demonstrate a product's compliance with the applicable directive(s), the manufacturer will have to provide detailed information regarding the compliance process.  An array of standardized safety warning symbols/pictograms may also be applicable to each of the above product categories.

In 2008, the EU adopted a package of measures known as the New Legislative Framework (NLF) which provides a regulatory 'toolbox' for new and revised EU product safety legislation. The framework is designed to improve market surveillance, more clearly define the responsibilities of manufacturers, importers and distributors, and clarify the meaning of CE marking across a wide-range of product groups.  In February 2014, to align product harmonization legislation with the provisions of the NLF (most notably Decision 768/2008), the European Union adopted an "Alignment Package" consisting of eight revised CE marking directives. These newly aligned directives are in force since 2016.
 
Note:  The EU is currently finalizing new legislation that will impact CE marking for medical devices.  The new regulations have a transition period with the new measures coming into force in 2020 for medical devices and 2022 for in-vitro medical devices.

For more information:

CE Marketing
Harmonized Standards
New Legislative Framework
Revised CE Marking Laws

AUTOMOTIVE

Nearly every vehicle component must be certified for safety as specified under the various directives relating to automobiles.  The number shown in the rectangle on the label indicates the particular Member State in which the approval process was conducted.  A "base approval number" must also be provided adjacent to this certification.  This four-digit number will correspond to the directive and type of device in question.  The country-number correlation is as follows (this is not an exhaustive list):
 
| | | | | | |
| --- | --- | --- | --- | --- | --- |
| 1 | Germany | 6 | Belgium | 18 | Denmark |
| 2 | France | 9 | Spain | 21 | Portugal |
| 3 | Italy | 11 | UK | 23 | Greece |
| 4 | Netherlands | 13 | Luxembourg | 24 | Ireland |
For more information:

All existing directives on motor vehicles, in chronological order, available online at:
Existing Motor Vehicles Directives

Photometry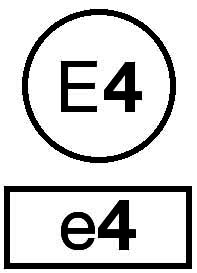 A similar marking is an 'E' surrounded by a circle, which applies to the testing of headlight lamps, brake light lamps and turning signal lamps of all vehicles seeking EU market entry. These include consumer vehicles, low-volume production trucks, light and heavy goods vehicles, trailers, motorcycles, cranes, agriculture and forestry tractors, and special-purpose and off-road vehicles.

For more information:
Automotive Legislation

COSMETICS
Containers and/or packaging (in certain cases) must bear, in indelible, easily legible and visible characters, the following:
The name, trade name and address, or registered office, of the manufacturer or person responsible for marketing the cosmetic product within the Community

The nominal contents at the time of packaging (by weight or volume)

The date of minimum durability indicated by "Best before end", for products with a minimum durability of less than 30 months. In this case the following must figure on the packaging:

The period after opening during which the product can be used without harm to the consumer, for products with a minimum durability of less than 30 months (indicated by a symbol representing an open cream jar, as shown below):

Particular precautions for use

The batch number or product reference, for identification

The product's function

If it is impossible for practical reasons to print on the packaging all the conditions of use and particular warnings, an enclosed leaflet, label or tape has to be provided and the following symbol has to be on the packaging:

The Member States are to draw up procedures for providing the information set out above in the case of cosmetic products that have not been pre-packaged. The product function and list of ingredients also have to appear on the container or packaging. Member States may stipulate that the information on the label is provided in their national or official language(s).

About the labeling of nanomaterials present in cosmetics:
The Cosmetics regulation indicates that from July 2013 "all ingredients present in the form of nanomaterials shall be clearly indicated in the list of ingredients" and that "the names of such ingredients shall be followed by the word 'nano' in brackets".

For more information
Regulation 1223/2009
Market Research Report on "EU Cosmetics Legislation"

DANGEROUS SUBSTANCES
Regulation on the Classification, Labeling and Packaging of Chemicals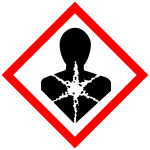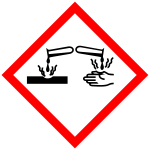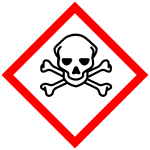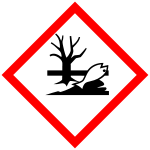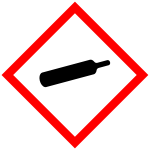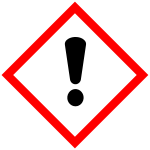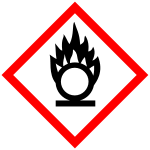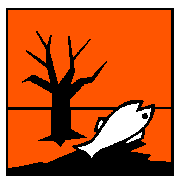 The labeling of dangerous substances must indicate the following:
The name of the substance

The origin of the substance (the name and address of the manufacturer or distributor)

The danger symbol and an indication of danger involved in the use of the substance

A reference to the special risks arising from such dangers.
 

The dimensions of the label must not be less than a standard A8 sheet (52 x 74mm), and each symbol must cover at least one-tenth of the label's surface area.  Member States may require their national language(s) to be used in the labeling of dangerous substances.  Where the packaging is too small, the labeling may be affixed in some other manner.  The packaging of products considered dangerous which are neither explosive nor toxic may go unlabeled if the product contains such small quantities of dangerous substances that there is no danger to users.

Symbols must be employed if the substance can be defined as any one of the following (as shown above):  explosive, oxidizer, flammable, harmful, toxic irritant, corrosive, or harmful to environment.  Containers of hazardous substances should include, in addition to the appropriate symbols, a raised triangle to alert the vision-impaired to their contents. Note that this directive has undergone numerous amendments relating, amongst other things, to the marking and labeling of additional substances.  Accordingly, it is advisable to consult all literature.

Regulation 1272/2008 implements the classification, labeling and packaging requirements for chemicals based on the Worldwide United Nation's Globally Harmonized System (UN GHS).
 
For more information
Regulation 1272/2008/EC on the classification, labeling and packaging

THE WASTE ELECTRICAL AND ELECTRONIC EQUIPMENT DIRECTIVE (WEEE)




This directive is designed to tackle the rapidly increasing waste stream of electrical and electronic equipment and complements European Union measures on landfills and waste incineration. Increased recycling of electrical and electronic equipment, in accordance with the directive requirements, limits the total quantity of waste going to final disposal.  This directive affects the following product categories:

Large and small household appliances

Consumer equipment

Lighting equipment

IT and Telecommunications equipment

Electrical and Electronic Tools

Toys and Sports equipment

Medical Devices

Monitoring and control equipment

Automatic dispensers

The symbol shown above must be displayed on all products that fall under this directive and indicates that the product is not to be discarded with normal household waste.  It is a required mark on batteries.  In instances where this symbol cannot be displayed on the equipment itself, it should be included on the packaging.

For more information
Directive 2012/19/EU

ENERGY LABELING
(example: local space heater)


Directive 2010/30/EU "on the indication by labeling and standard product information of the consumption of energy and other resources by energy-related products" sets a framework for the adoption of product-specific directives on the proper energy efficiency labeling for each concerned product.   With the adoption of Regulation 2017/1369 on energy labeling, which entered into force on August 1, 2017, the original directive 2010/30/EU was repealed; labeling categories were simplified; and the scope was extended. 

Suppliers are to supply free of charge labels or product fiches containing information about consumption of electric or other energy sources to their dealers.   They also have to register in EPREL, the European Product Database for Energy Labeling - see https://ec.europa.eu/info/energy-climate-change-environment/standards-tools-and-labels/products-labelling-rules-and-requirements/energy-label-and-ecodesign/european-product-database-energy-labelling_en
Dealers display labels in a visible and legible way, and make the fiche available in product brochures or other literature.

For more information

Label generator
Energy Consumption

DEVICES FOR USE IN POTENTIALLY EXPLOSIVE ATMOSPHERE (ATEX)



In addition to applying a CE marking for products falling under the ATEX Directive (2014/34/EC), it is necessary to display the Ex mark, which is a specific marking of explosion protection.  Located next to the 'Ex' mark will be a symbol designating the product group or category as specified in the directive.
 
For more information
Mechanical Engineering
Directive 2014/34/EU

FOOD RELATED: DO NOT EAT SYMBOL


The regulation on active and intelligent materials and articles intended to come into contact with food contains additional rules on labelling.  One of these rules is the following: 

To allow identification by the consumer of non-edible parts, active and intelligent materials and articles or parts thereof shall be labelled, whenever they are perceived as edible:
(a) with the words 'DO NOT EAT'; and
(b) always where technically possible, with the symbol reproduced in Annex I.

For more information

Article 11 of Regulation (EC) No 450/2009:
https://eur-lex.europa.eu/LexUriServ/LexUriServ.do?uri=OJ:L:2009:135:0003:0011:EN:PDF

FOOTWEAR


Labels must convey information relating to the upper, the lining and insole sock, and the outer-sole of the footwear article. The information must be conveyed by means of approved pictograms or textual information, as defined by the directive.

The label must be legible, firmly secured and accessible, and the manufacturer or the authorized agent established in the Community is responsible for supplying the label and for the accuracy of the information contained therein. Only the information provided for in the directive need be supplied.  There are no restrictions preventing additional information being included on the label.

For more information
Footwear

MARITIME

The "steering wheel" mark shown above is the equivalent of CE marking for marine equipment.  It applies to equipment for use on board any new EU ship, wherever the ship is situated at the time of construction, and to equipment placed on board existing EU ships, whether for the first time or to replace equipment already carried on board. It does not apply to equipment already on board on the date on which the directive entered into force in 1997.  The directive applies to the following equipment categories:
 

Life-saving appliances

Marine pollution prevention

Fire protection

Navigation equipment

Radio-communication equipment

A revised Marine Equipment Directive (2014/90/EC) was adopted in July 2014 and is applicable since September 18, 2016.

For more information
Directive 2014/90/EC

NOISE EMISSION OF OUTDOOR EQUIPMENT

 

Machines used outdoors are subject to CE marking requirements.  Noise emission levels are covered separately.  The sample mandatory label shown above specifies noise emission levels.

For more information
Noise Emissions


PRICE DISPLAY
The directive requires an indication of the selling price, and price per unit of measurement, on all products offered to consumers. The aim is to improve the information available to the consumer and to facilitate price comparison. This information must be unambiguous, clearly legible and easily identifiable. If advertising mentions the item's selling price, it must also indicate its unit price. For products sold in bulk, the unit price is the only item whose indication on the label is mandatory. National authorities may provide alternatives for products sold by small retail business operations.

For more information
Directive 98/6/EC on the indication of the prices of products offered to consumers.

RECYCLING

The "mobius loop" (sometimes known as the "chasing arrows"), based on an international standard, may be found on products throughout Europe and is meant to help consumers identify and participate in recycling schemes for product packaging and materials.  As well as being used on printed packaging, the chasing arrows symbol is sometimes featured in the molds of glass, metal, paper, or plastic products. Various kinds of loops indicate whether the product is recyclable, recycled or contains recycled material.

For more information
http://ec.europa.eu/environment/waste/target_review.htm

Plastics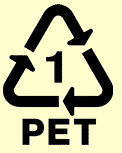 The symbol above is an example of how a plastic's type may be indicated on a product. As part of the EU voluntary identification system for plastics, the following marks are used for the most common types of plastics (Decision 97/129/EC):

| | | |
| --- | --- | --- |
| EU Number | Abbreviated Description | Full Plastic Description  |
| 1 | PET | Polyethylene Terephthalate |
| 2 | HDPE | High Density Polyethylene |
| 3 | PVC | Poly Vinyl Chloride |
| 4 | LDPE | Low Density Polyethylene |
| 5 | PP | Polypropylene |
| 6 | PS | Polystyrene |


For more information

European Strategy for Plastics: https://ec.europa.eu/environment/waste/plastic_waste.htm

Glass


There are no EU-wide symbols used to designate the recyclable nature of glass.  However, it is certainly encouraged on the national level with an array of symbols.  The one shown above is just one small sample of the total existing to show recyclability.

TEXTILES
Textile products must be labeled or marked whenever they are put onto the market for production or commercial purposes (sale). The names, descriptions and details of a textile's fiber content must be indicated on products available to consumers. With the exception of trademarks or the name of the undertaking, information other than that required by the directive must be listed separately. Member States may require that their national language be used on the labeling and marking required by the directive.

For more information
Textiles Legislation

 
Prepared by our U.S. Embassies abroad. With its network of 108 offices across the United States and in more than 75 countries, the U.S. Commercial Service of the U.S. Department of Commerce utilizes its global presence and international marketing expertise to help U.S. companies sell their products and services worldwide. Locate the U.S. Commercial Service trade specialist in the U.S. nearest you by visiting http://export.gov/usoffices.
Europe
European Union 28
Market Access
Trade Development
Trade Documents